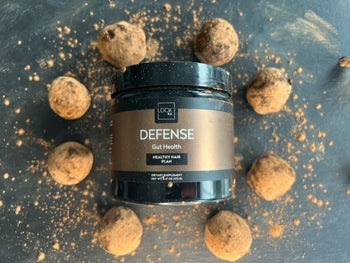 The journey to better hair and gut health comes in more than tablet form, and our creative team is always looking for ways to shake up the many ways DEFENSE can be used in the kitchen to produce better gut health and to strengthen hair. Our DEFENSE Gut Health Morning Motivator Bites require no cooking—perfect if you are avoiding a hot kitchen during this sweltering August weather!
The recipe is packed with heart and hair healthy omega 3s and is a healthy no cook alternative to a brownie. Our staffers report this recipe is not only gut and hair healthy but also kid and husband approved!
The recipe makes 8 morning motivator
bites
that can be eaten all at once or savored throughout the day for improved gut and hair health! The DEFENSE morning motivator
bites
can be refrigerated for up to a week, or frozen for up to six months as a healthy snack.
In addition to the gut and hair healthy ingredients in LOCKrx
DEFENSE
, these bites are packed with healthy hair hero ingredients like walnuts which
are excellent sources of biotin, omega 3 and 6 fatty acids. Walnuts also contain protein and magnesium, which help to strengthen hair cuticles and nourish the scalp. Another hero ingredient,  dates, are rich in iron, amino acids, and riboflavin (B2) and help to improve blood circulation to the scalp, helping to strengthen hair and grow it faster. When it comes to gut health, dates are also extremely high in fiber, helping to improve digestive health. The star of the show in this recipe is LOCKrx DEFENSE, a prebiotic nutrient supplement in powdered form that contains a number of hero ingredients with anti-inflammatory properties to sooth and address gut health related issues.
Head over to
TikTok
to make the recipe with us, or follow the recipe below:
To make the DEFENSE Gut Health Morning Motivator Bites, you will need:
Ingredients
1 cup of Nature's Promise* walnuts
1 cup packed, Caramel Natural®* pitted medjool dates
3 tablespoons of Hershey's* unsweetened cacao powder
1 scoop of LOCKrx DEFENSE Chocolate Mint Dietary Supplement
1 teaspoon of McCormick's* vanilla extract (we used
½ teaspoon of McCormick's* Pure peppermint extract
1/8 teaspoon of Alessi* all natural fine sea salt
2-3 tablespoons of distilled water (if needed)
*Brands are used only for reference. Please feel free to use your favorite brand.
For the Dusting (optional).
2 tablespoons of unsweetened cocoa, matcha powder, chopped walnuts, or coconut. Be as creative as you wish!
Kitchen Supplies:
Foot processor with s hook/dough blade/mixing blade
Measuring cup and measuring spoons
Cookie Scoop/Melon Baller
Sifter
Serving tray
To Make the DEFENSE Gut Health Morning Motivator Bites, simply add all ingredients, except the water, to a food processor using an S Hook or mixing blade. Begin to pulse the ingredients until a dough begins to form. In some cases, 1-2 tablespoons of water may be used to allow the ingredients to take shape. Once a ball has been formed, remove it from the processor and begin to form smaller bites with a cookie scoop. This recipe will make 8 motivator bites (4 servings). You may eat them as is, or opt for a dusting, rolling each ball in creative ingredients like cocoa, matcha powder, chopped walnuts, coconut, pistachios--the options are limitless! For our recipe, our staffers rolled their bites in cocoa for a truffle like texture that melt in your mouth! The bites can be eaten immediately, stored in a refrigerator for up to a week, or frozen for up to 6 months. 
Nutrition Information*
Servings: 4
Serving Size: 2 Morning Motivator
Bites
Calories: 335 calories
Fat: 20 Grams
Saturated Fat 2.4 grams
Carbohydrates: 21.1 g
Fiber 6.6 grams
Sugar 32.8 grams
Protein 6 grams
*Nutrition Information does not account for optional dusting.