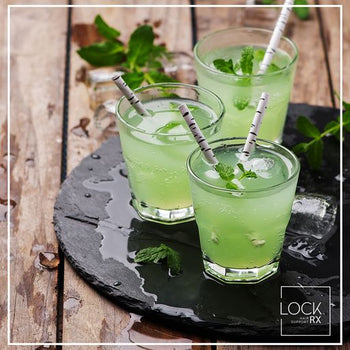 Who said gut health had to be boring? This Cinco De Mayo, we've mixed up a few healthy alternatives to your favorite holiday treats. Check Out These Fun Cinco De Mayo Recipes using DEFENSE. 
Mock Mint and Melon Mojito: Part III
1 ounce of simple syrup
½ cup grated, peeled and seeded English Cucumber
½ honeydew melon, seeded and chopped
½ cup of fresh lime juice
⅔ cup mint leaves 
2 cups club soda
1 scoop of LOCKrx DEFENSE
Directions: Muddle Cucumber with simple syrup. Strain and discard the solids. Puree melon and DEFENSE in a blender until 2mooth.  Muddle mint in a pitcher with your simple syrup. Stir in melon juice and lime juice; Chill. Before serving, stir in club soda. Serve over Ice. Enjoy. 
DEFENSE Mock Pina Colada Part III
1 13.5 ounce can coconut milk
2 scoops LOCKrx DEFENSE
3.5 cups frozen pineapple
6 ounces pineapple juice
Pineapple Wedges for Garnish 
2 cups ice
Place all ingredients in blender and puree on high until everything is combined. Pour into glasses and garnish with a pineapple wedge, if desired. 
Pepita, Date and DEFENSE Balls Part III
1 cup pepitas, soaked for 6 hours or overnight
1/2 cup medjool dates pitted
 1/2 cup shredded coconut plus more for garnish
1 scoop of LOCKrx DEFENSE 
Directions: Drain pepitas and add to a food processor until crumbly. Add dates until well incorporated. Next, add coconut until well incorporated. Gently fold in LOCKrx DEFENSE. Form into 12 balls and roll in coconut. Refrigerate for at least an hour.  
Send us your DEFENSE recipe for a chance to win free product!