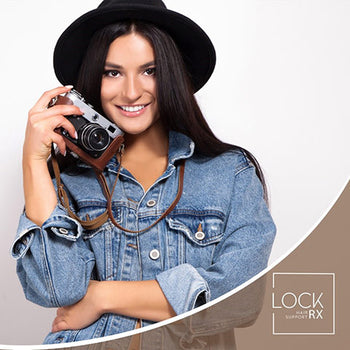 You probably look in the mirror several times a day, agonizing over your hair loss. It's time to look forward to looking in the mirror again, and we are excited that you have taken step one with LOCKrx Hair Support. 
In all the excitement leading up to starting your LOCKrx journey, it can be easy to forget to take your baseline "before" images. Reclaiming your confidence, like weight loss, won't happen overnight. When it comes to new hair growth, your progress will take time.
Your before/baseline images, your progression images, and your after images will act as a testament to your journey and while they will take a little time, they are critical to tracking your growth and reminding you that with consistency, you can once again wear the crown you deserve.
In a physician's office, there is typically a dedicated space for clinical photography for before and after results. More often than not, these rooms are complete with professional equipment, light reflectors, and a professional backdrop. Obviously, most people won't have a photography studio at their disposal (if you do, kudos!), but this doesn't mean you can't replicate the setting and mirror similar results with your personal camera or smartphone.
For amateur photographers, the key to the before, progression, and after photos is consistency. All photos should have a uniform appearance. This means that images should have the same lighting, pose, background color, angles, focal length, distance from the camera, etc. We have gathered a few tips to help track your progress. We are excited to join you on your journey and our team is here to support you. 
Background and Location. Your background color should be neutral and free of clutter. If one image has a hair dryer in the background and the next this morning's coffee, viewers are drawn to these distractions instead of your incredible results. Busy backgrounds with busy wallpaper or pictures and clutter can also be distracting when comparing before and after images. Your background should be free of clutter but also of other people—you're the star, after all! Find a wall space with a solid, neutral coloring, which helps draw the eye to the hairline and compliments your hair color. It's important to note that blonde extensions on a red wall could reflect and give a pink appearance. Brunette hair taken against brown wall, on the other hand, can blend with the wall's color. Neutral colors, like white, grey or greige walls will help to ensure that hair color does not reflect off the wall and will provide the best background for your images.
Lighting You won't need a set of professional spotlights to capture your before and after results, but good lighting is paramount to capturing your progress. Bad, muted lighting can make it difficult to see your growth. When possible, natural light is best. As lighting changes throughout the day, if you choose to take your photos in natural light, pay attention to the time of day you take your before image and try and take your progression and after photos during the same time of the day. If you choose to take your pictures indoors, selfie lights and ring lights can help balance lighting. Practice taking image with and without the flash to determine the best lighting. Overhead fluorescent lighting can present its challenges. Practice is key to getting it right. When in doubt, send a message to our hair concierge team at social@smartsolutionsrx.com and we would be happy to give your images a second look.
Angle The angle of your images is just important as the location you take your images. Once you commit to specifical angles in your before photos, we recommend you shoot from the same angle(s) in your progression and after shots. While it may be tempting to take the images yourself, we encourage you to keep the selfies for your Insta Stories and not for your progression photos. In the case of your before and after images, we recommend recruiting someone you trust to assist you with taking your pictures. Selfies are very limiting as your arm can only reach around and shoot in certain angles. If another individual is not available to take your photos, consider the timer feature on your smart phone for areas that are hard to reach.
For LOCKrx patients, we recommend 5-7 angles each time you capture your before and progression images. Yes, that means five to seven pictures each time! These images should be taken before you begin LOCKrx, 2 months, 3 months, 6 months, and 12 months out. Our suggested angles for your images includes:
1. A view of the front side, face in view. We can block out your facial features, if you're shy.
2. A full view of the left side of your head.
3. A full view of the right side of your head.
4. A view of the head tilted down so the tip of the nose appears to touch the chin (this allows us to see the crown and mid part).
5. A full view of the back of your head.
6. A closer view of the affected hair loss area (part or crown) on both sides.
The best distance is one that fills the entire frame with your scalp and/or face. This WILL take practice, as you may struggle with distance and blurred images in the beginning. If at first you don't succeed try, try again!
In an ideal situation, your before, progression, and after images should overlap. The road to the finish line will be slow, but with consistency, patience, and some photography know-how you will be looking back three to six months from now glad that you took the first step and tracked your progress along the way.
Need an incentive to take your pictures? They say that a picture is worth a thousand words! Fire up that camera and check out our LOCKrx before and after incentive and get clicking! Submit all photos to social@smartsolutionsrx.com.