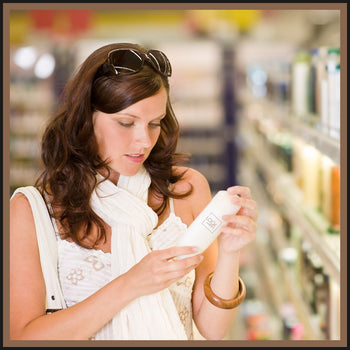 The Best Shampoos and Ingredients for Healthy Hair Growth
High quality shampoo can be found anywhere -- drugstores, online, salons -- if you just know the right elements to look for. Thankfully, buying quality products can be made easier by doing a quick scan of the ingredient list and watching out for these damaging ingredients. When perusing the isle, look for things like aloe vera, biotin, honey, shea butter, herbal extracts (e.g. dandelion, peppermint, green tea, rosemary, chamomile) and nourishing oils (e.g. coconut, avocado, argan, jojoba, almond, grape seed). Mild, protein-rich shampoos with ingredients like these are best for achieving healthy hair and combatting hair loss.
We've compiled a list of some of our favorite shampoos, ranging from lower cost to more premium prices. The nicest part is, they are all formulated without harsh chemicals and with all the good stuff we want in our hair care, making sure to provide great benefits with each wash.   
Art Natural Argan Oil Shampoo This shampoo is a perfect pick for anyone who wants to reduce the impact of thinning hair and encourage new hair growth. Its blend of argan oil, aloe vera, rosemary and other key ingredients help stimulate cell renewal and healthy growth, as it energizes hair follicles and supports a healthy scalp. Not only this, but Art Naturals Shampoo contains multiple DHT blockers that allow blood flow to the hair follicles and help prevent hair loss and damage. 
Shea Moisture Jamaican Black Castor Oil Strengthen & Restore Shampoo The organic shea butter in this shampoo deeply moisturizes and conditions the hair and scalp, while peppermint oil invigorates for a stimulating experience. The castor oil is loaded with reparative omegas that reduce breakage and promote healthy hair. Shea Moisture is good for dull, damaged, or chemically processed hair.
Nexxus Clean and Pure Nourishing Detox Shampoo Nexxus Clean and Pure detoxifies hair while replenishing vital nutrients, using its exclusive ProteinFusion blend of elastin protein and marine minerals. It provides a deep clean while locking in moisture to unleash your hair's natural smoothness all day long. This brand is a salon-crafted formula at a low price.
Nature Lab Tokyo Perfect Smoothe Shampoo The Perfect Smoothe Shampoo is full of unique ingredients that deliver great results. It contains argan stem cells that stimulate hair follicles and promote growth and renewal at a cellular level, as well as quinoa -- a protein-rich grain that repairs, protects, and hydrates. It also contains enriching oils and natural fruit extracts that help control frizz. 
Olaplex No. 4 Bond Maintenance Shampoo This complex system protects hair from everyday stresses by re-linking broken bonds and is a favorite in our LOCKrx offices. It repairs all types of damage from thermal, chemical, mechanical, and environmental factors and strengthens hair from within.
Act + Acre Cold Processed Hair Cleanse Act + Acre is a moderately priced, plant-derived shampoo that gently removes residue, as well as rebalances and nourishes the hair. It contains vetiver (helps to strengthen the hair shaft), rosemary (stimulates the roots, improves hair growth, and increases circulation in the scalp), lavender (deeply conditions the hair, keeps it shiny, and helps control dandruff), and ylang ylang (high in nutrients to deliver moisture to the hair cuticle). 
WOW Apple Cider Vinegar Shampoo and Hair Conditioner With promises to soften hair, nourish the hair-shaft, rejuvenate hair follicles, and heal various scalp conditions, this organic shampoo won't break the bank and comes with a 100% money back guarantee, WOW Skin Science is free of parabens, sulphate and silicones. Repairing damaged hair and clarifying the scalp, the cleansing set uses virgin coconut, avocado oil and raw Himalayan apple cider vinegar to repair damaged follicles, balance pH, and rejuvenate the scalp. DHT blockers--nettle leaf and saw palmetto extracts help to block the leading causes of hair loss. It strengthens hair while still being gentle enough for everyday use. 
By Gina Rejuvenating Shampoo This brand uses a special Biogen™ complex, consisting of Biotin to rebuild hair from the inside out and improve hair elasticity, and collagen to repair damaged cuticle layers. In addition, the shampoo has wheat protein and peptides, which repair weak strands, improve overall strength, and prevent future damage caused by a variety of factors.  It gently cleanses while nourishing the hair and protecting color.
LOCKrx Bio Cleanse Scalp Prep Shampoo LOCKrx's scalp cleanse is a mild, protein-rich, plant-based cleanser meant for use during the treatment phase of hair thinning and loss. This premium shampoo is designed specifically to remove cellular debris and product and sebum buildup from the scalp/hair follicles. It also works to purify with essential oils and stimulate/prepare the area for at-home scalp treatments. It contains beneficial ingredients such as rosemary, aloe vera, and peppermint oil.
Rahua Hydration Shampoo Rahua Hydration Shampoo uses a plant-based formula infused with rare Amazonian oils and natural protein-bonding sugars that drive hydration deep into the hair. Some ingredients include morete oil, which is rich in vitamins, and Rahua, which fortifies hair follicles and extends color endurance. This shampoo leaves the scalp hydrated and balanced to achieve stronger, healthier, and shinier hair. 
Laritelle Organic Diamond Strong Shampoo This product promises to soften hair, nourish the hair-shaft, rejuvenate hair follicles, and heal various scalp conditions. It encourages hair growth by improving circulation while reducing shedding. Laritelle Organic Shampoo is made with jojoba and other oils best known to promote healthy hair growth, as well as ingredients like rosemary, lemongrass, and ginger. It strengthens hair while still being gentle enough for everyday use.