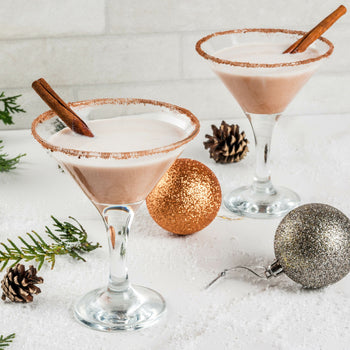 The holidays are in full swing and so, too, is the holiday cheer. Join in the festivities with our DEFENSE Chocolate Peppermint Martini Mocktail, a tasty, non-alcoholic festive treat for the holidays to better your hair and gut health!
Chocolate Peppermint Martini Mocktail
1 Scoop DEFENSE Chocolate Mint
1 cups of milk of choice of milk (we prefer almond milk or coconut milk)
¼ cup of sweetened condensed milk or canned cream of coconut milk
2 tablespoons of chocolate syrup
Crushed Candy Canes or peppermint candies
To Prepare: Place syrup on a small dish and coat the rim of the martini glass. Dip chocolate dipped rim into crushed candy canes or peppermint candies and set aside to chill.
In a blender, mix DEFENSE, milk, and condensed/coconut milk until well incorporated. Pour into prepared martini glasses and enjoy!
Cheers to Healthy Hair!