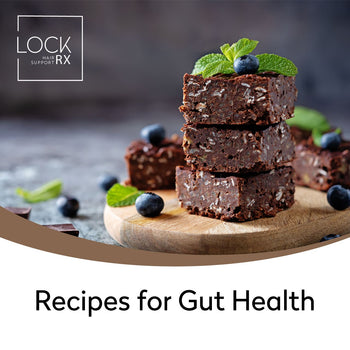 An unhealthy gut increases the risk for gut imbalances that may lead to poor bone health, decreased brain health, and compromised immune health. When it comes to hair health, what you put in your body is just as important as what you use on the outside. Adding fermented, probiotic foods to your diet can help shift the gut microbiome and help your body absorb more nutrients. While the industry is abuzz with probiotics, just as important to the gut's microbiome are prebiotics. Gut Health doesn't have to be boring! We've gathered some FUN gut healthy recipes. 
DEFENSE Gut Punch Smoothie 
Daily stress can take its toll on your gut health, but there's things you can do about it! Green smoothies made with dark leafy greens, healthy fats like avocado, and anti-inflammatory foods like ginger, can boost your immune system, calm an upset stomach and give you a healthy dose of nutrients. This smoothie packs a healthy punch to your gut and the ingredients may help to protect and nourish your hair! Kale is full of omega-3 and omega-6 fatty acids to nourish and protect your scalp, promoting stronger circulation. Bananas add more than just texture and taste to your smoothie. Bananas contain silica, a mineral element that helps your body to synthesize collagen and may make your hair grow stronger and thicker! Avocado contains biotin and helps support healthy hair growth, keeping it shiny and helping to protect your hair from breaking. Chia seeds contain phosphorous, a building block of protein to help promote hair growth. In addition to supporting better gut health, chia seeds contain 9 essential amino acids related to better hair health. Flax seeds are a source of Vitamin B and provide a healthy antioxidant to help your hair grow stronger and healthier.  Adding a scoop of DEFENSE to this smoothie provides a truly healthy punch to the gut, creating a healthy microbiome for the gut and helping to protect your hair's growth. To make this smoothie you will need:
2 cups kale leaves
½ Hass avocado
1 frozen banana*
1 tablespoon chia seeds
2 tablespoons ground flax seeds
2 cups water 
1 scoop LOCKrx DEFENSE
Fresh Fruit Slice for Garnish 
Directions: Add all ingredients to a blender and blend until smooth. Enjoy with a fresh fruit slice for garnish. 
*Tip: Instead of turning overripe bananas into banana bread, consider slicing them and freezing them on a baking sheet. Once frozen, place them in a plastic bag and use them for future smoothies! 
DEFENSE Decadent Brownies 
Sometimes our brains know what's right for our health, but our stomachs want something sweet to satiate our cravings. What makes these brownies healthy for your hair and gut? For starters, they contain oat flour, which may help to calm an inflamed scalp. Rich in omega-3 fatty acids, iron, fiber, and zinc, oat flour also has antioxidant properties to help protect the skin and scalp. Cocoa powder has been used for centuries as a health aid, and for good reason. Rich in magnesium, a known ingredient to combat hair loss, cocoa is a nourishing treat for your gut and health.  It also contains beneficial properties like protein, Vitamin A, and one of the highest levels of antioxidants than other natural products, and is known to increase circulation to the scalp. Arrowroot flour can be sprinkled on the scalp to help absorb excess oil. When used in recipes, arrowroot flour may help to stimulate your immune system. It is high in protein, provides enriching levels of folate, potassium, and it is easily digested. Applesauce is a soluble fiber with known properties to protect the gut. Pectin in applesauce also acts a prebiotic, helping to promote digestive health. Walnuts are essential for healthy gut and hair. In fact, a recent study by Penn State University revealed that diets rich in walnuts help to promote good gut bacteria, including butyric acid-producing bacteria. We've chosen dates, agave nectar and raisins to naturally sweeten this recipe. These ingredients contain important vitamins and minerals and a significant amount of fiber, which is important for your overall digestive health. The gut healthy spirulina in LOCKrx DEFENSE will give these brownies a slightly green, darker tint. Spirulina is a beneficial prebiotic and a rich source of proteins, vitamins, and essential amino acids. Thankfully, with our DEFENSE decadent brownies you can have your cake, er, brownies, and eat it, too! To make our DEFENSE decadent brownies you will need:
1 cup Oat flour
2/3 cup Cocoa powder, unsweetened
2 tbsp Arrowroot flour
2 tsp Baking soda
2 tsp Baking powder
1/8 tsp Sea salt
3/4 cup Applesauce, unsweetened
1/3 cup Walnuts (chopped)
1/4 cup Agave nectar (syrup)
1/3 cup Pitted dates (chopped)
1/4 cup Raisins, seedless (sultana)
1 tsp Vanilla extract, pure
1 level scoop of LOCKrx DEFENSE
1/4 cup Almond milk, chocolate, unsweetened, Blue Diamond
Directions: Preheat oven to 350° F. degrees. Mix together the dry ingredients in a medium bowl. Combine remaining wet ingredients and add to the dry mixture stirring thoroughly. Spoon batter into an 8 x 8" glass or metal baking pan coated with nonstick spray. Bake in a preheated oven for 25 to 30 minutes. Bake for 10-12 minutes if making mini muffins. Bake for 12-15 minutes if making regular-size muffins. Test with a toothpick for doneness. Enjoy!
From scrumptious smoothies to sweet tooth satisfying brownies, gut health is paramount to staying healthy and helping your hair to grow. We have you covered at LOCKrx and we hope you enjoy these gut healthy treats. Low on DEFENSE? 
Are you a culinary wizard? Send us your DEFENSE recipe for a chance to win free product! Email your recipe and pictures (if available) to social@smartsolutionsrx.com.