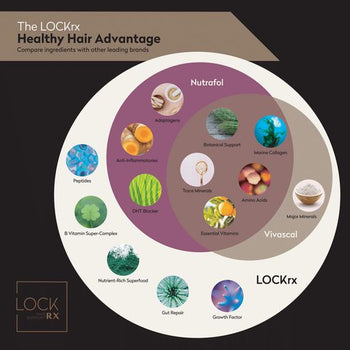 The hair industry is inundated with products that promise to deliver a whole lot for your hair health. One product promises shinier locks. Another guarantees that in 30 days you'll have long hair that would put Disney Princess Rapunzel's locks to shame. For every product you search, there are 10 more just like it, claiming to do even better for your hair than the last. As an informed consumer, it is important not to get swept away by the fancy marketing ploys and to investigate what you are putting in and on your body. The majority of these products on the market are only regulated by the FDA for their ingredients, ensuring the products are safe and reliable. The claims these products promise, however, are not currently regulated, and that is why you will see statements such as "not intended to treat, diagnose, cure, or alleviate the effects of diseases" in itty bitty writing on the back of your supplement bottle, yes, even on LOCKrx bottles.  As such, for the consumer, is it that much more important to truly understand the products you are purchasing and identify the ingredients and their known health benefits to your hair's health. Is the product third party tested? Does it stand up to rigorous standards? Are the ingredients in the supplement going to deliver on the promise to grow your hair? For how long? Will they counteract your current medication? These questions should always be answered by your medical professional before you begin any supplement program.
We took a look at three leading products on the market and compared them. An informed patient is a better patient.
LOCKrx by Smart Solutions RX® 
When compared to Viviscal™ and Nutrafol®, LOCKrx offers the most comprehensive drug-free support for hair health, offering solutions from supplements to topical applications that stand alone or can be taken together to create better results. While products can be purchased online, LOCKrx encourages relationships with local physicians who can diagnose hair loss and present the best program for success. LOCKrx by Smart Solutions RX, Inc.® set out on a mission to address hair loss globally, designing a hair treatment system specifically designed to address both the nutritive and the hormonal causes of hair loss, both internally and topically. LOCKrx products include a drug free Internal Hair Health Support plan of three supplements, DEFENSE, BLOCK and GUARD and an external line of products ranging from topical serum, Growth Factor 3X, for in home and clinical application as well as shampoos and two new upcoming products including a serum comb application and leave in scalp treatment. Research suggests that good hair health starts with a healthy gut microbiome. DEFENSE is offered in a powdered supplement form and acts as a foundation for better gut health to address the causes of hair loss. DEFENSE can be taken on its own or used as a two week prep for LOCKrx supplements, BLOCK and GUARD, and then continued several times a week to protect the healthy gut flora. BLOCK, a supplement in tablet form, is indicated as use for two tablets per day. BLOCK helps to block hair loss by prohibiting factors that cause follicle attrition, while supporting factors that help to alleviate stress. BLOCK can be taken on its own, but for optimal results, LOCKrx recommends GUARD, which enhances key nutritional factors that are known to affect hair growth and hair shedding. Like BLOCK, GUARD is offered in tablet form and two tablets each day are recommended. Both LOCKrx and Nutrafol® recommend 4 pills each day, though LOCKrx pills are a bit easier to swallow due to their smaller size. LOCKrx  offers powerful peptides, B Vitamin Super-Complex, Nutrient Rich Superfoods, Gut repair, and Growth Factor. In addition to their internal hair health plan of supplements, LOCKrx offers specially curated purified growth factors of human origin to support healthy follicle cycles against thinning and loss. Professional products, including Growth Factor 3X serum are applied in the medical office with micro needling as a stand alone procedure or to boost the benefits of Platelet Rich Plasma (PRP) treatment. The protein rich BIO CLEANSE shampoo and BIO BALANCE leave in treatment as well as their soon to be launched BIO comb applicator are products that prepare and protect the scalp for treatments and from natural elements. LOCKrx also offers an at home application of serums using a microchannel delivery device, which augments in office procedures. Like Viviscal ™, LOCKrx products can be taken alone or enhanced when used together for maximum results. For visible results, 4-6 cycles, or 4-6 months are recommended, but continued use will help to protect your investment. LOCKrx's partnership with sister company, SmartGraft ®  by Vision Medical, Inc. provides the most comprehensive global approach to hair loss available on the market.
Viviscal™
The ingredients in Viviscal™ address the nutritive deficiencies in our bodies. Viviscal's ingredients include major minerals, marine collagen, botanical support, trace minerals, essential vitamins, and amino acids. Viviscal is available in pill form, shampoo, conditioner, and hair serum for women. Viviscal Shampoo and Conditioner are recommended for everyday use, and claims to create thicker and voluminous hair. These products are made with biotin, keratin, and zinc to promote healthy and thicker hair growth. Viviscal serum, offered as an Elixir, is a leave treatment, blended with similar ingredients in their shampoo, but in condensed form. Application of the serum is on palms and then dispersed on damp hair. The drug-free pill form of Viviscal contains a proprietary key ingredient, AnimoMar™. The pill supplement includes a daily dose of 2 pills. Viviscal's variety of products are enhanced when used together for maximum results, however, each can be used on their own to produce healthy hair. Results can be noticed in 3-6 months.
Nutrafol ® 
The 21 active ingredients in Nutrafol generally address the hormonal causes of hair loss. Nutrafol took the beneficial hair health ingredients found in Viviscal, but they took Viviscal's ingredients a step farther by adding adaptogens, DHT blockers, and anti-inflammatories to their formulate to address the hormonal causes of hair loss for both men and women. The minerals in Nutrafol work to help grow hair longer and thicker and may help to postpone the stages that contribute to early hair fall. These oral supplements in pill form take a holistic approach to hair health, targeting health factors that contribute to hair loss.  Nutrafol is available drug-free in pill form only and offered in separate formulas for men and women. A third product includes Nutrafol Women's Balance, which is formulated to support hair loss and thinning during menopause. Nutrafol Men contains more Saw Palmetto, an effective DHT blocker, where their line for women includes added adaptogens and collagen and hormone balancing natural ingredients for those experiencing menopause, including saw palmetto, maca, and astaxanthin. All three programs from Nutrafol require 4 pills each day and they are larger than Viviscal and LOCKrx. Like the other LOCKrx and Viviscal, Nutrafol rescommends 2-4 cycles, or 12-24 weeks to see results, recommending up to 6 months to see results. 
Final Thoughts
When compared to two leading products on the market, LOCKrx™ by SmartSolutions RX has several benefits over two leading products, Nutrafol® and Viviscal™.  All three of these products are wonderful and backed by years of research and science. Simply put, we'd trust any of them in our own bodies.