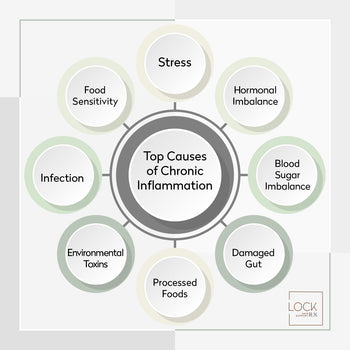 Chronic inflammation is the body's adaptive response of the immune system. Under chronic stressful conditions, the immune system, to restore function and survive, experiences low levels of activation, referred to in the medical community as para-inflammation. While conventional medicinal interventions to conditions that contribute toward inflammation such as cancer, heart disease, respiratory disease, diabetes, and Alzheimer's, arthritis, etc. are addressed through pharmaceutical approaches, cellular damage caused by low-grade inflammatory diseases are often not treatable by medicine and are also cause for concern. Chronic inflammation has been linked to excessive calorie intake, elevated blood sugar levels, stress, hair loss, and to a multitude of degenerative diseases.
Addressing these sources of inflammation is key to also obtaining a healthy scalp. Surprisingly, the body may show signs of inflammation months to years before an individual seeks the help of a professional. Early signs of inflammation in the body may include joint and muscle pain. Additionally, those who suffer from chronic inflammation may exhibit early signs of skin infections, breakouts, rosacea, hair loss, and hair thinning. Mental health is also affected by chronic inflammation and an individual may present with fatigue, brain fog, and depression. Finally, those who experience chronic inflammation may experience early symptoms of gastrointestinal conditions such as diarrhea, constipation, and bloat.
The source of inflammatory hair loss, as it relates to chronic inflammation, often starts with gut health. Gut health is the foundation of the LOCKrx Hair Support System, which contains ingredients known to target inflammatory hair loss at its source. Three ingestible products, DEFENSE, BLOCK, and GUARD contain ingredients thought to address the internal contributing factors of hair loss. DEFENSE is a prebiotic in a powder form that contains nutrients known for their anti-inflammatory and gut healing modulating properties, such as L-glutamine and Beta-glucan. DEFENSE harnesses the power of anti-inflammatory ingredients such as turmeric, aloe, spirulina, and licorice and may be contributory to a combined approach against hair loss.  These ingredients are widely known for their easily digestible adaptogenic properties, which soothe and support the gut and boost the growth of healthy bacteria. DEFENSE prebiotic powder is paired with two all-natural supplements in tablet form, BLOCK and GUARD. BLOCK uses powerful botanicals like saw palmetto, ashwagandha and resveratrol, which have known properties that support healthy blood vessels, block DHT, and balance hormonal stress cortisol levels.  Rounding out the ingestible line to help address inflammation and follicular health from within is GUARD, which is filled with the most methylated, reduced form of Vitamin B, which is thought to provide adrenal and hormonal support for scalp health and healthy hair growth. 
Of the many side effects associated with chronic inflammation, hair loss is one of the most common complaints. Unfortunately, because hair is not vital to survival, the body uses its resources to address the signs of inflammation, neglecting the affected hair follicles as an act of survival. This lack of vital nutrients to hair health is one of the leading causes of hair thinning and visible loss. The causes of hair loss due to chronic inflammation are abundant and may include allergy, infection, stress, environmental toxins, and decreased physical activity.
The LOCKrx Healthy Outside Topical Support System complements the Healthy Inside Support System to penetrate the scalp through multiple pathways using specific ingredients known to scientifically reduce inflammation and nourish hair follicles.
In this way, the LOCKrx ingestible therapies may help to strengthen and lengthen the hair growth cycle, reduce stress, and nourish the body, while the topical LOCKrx products have proven ingredients known to help repair scalp inflammation.