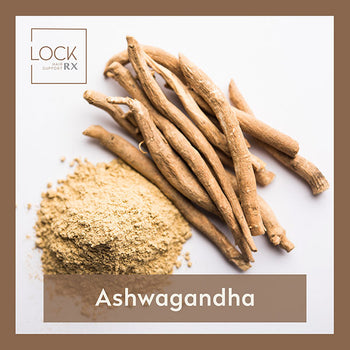 The kids are screaming in the background as you manage virtual school decisions. You find yourself desperately missing summer traditions with family, and you'd give anything for a Saturday night out of with your significant other that didn't include a mask and an acceptable social distance. Your hair is falling out, and you're reminded of the emotional and physical toll the pandemic is taking on your body each morning as you witness strands wash down the drain. As you struggle to compete with this new normal of COVID-19, you find yourself stressed, irritable, and desperately seeking an outlet to relieve the tension. Your normal stress relieving outlets—the gym, the spa, your hair dresser— all closed or booked for months out. Your midnight search results have led you to LOCKrx in search of a miracle. Take a deep breath. You've come to the right place!
At LOCKrx, we believe your health is paramount to your wellbeing. The propriety blend of ingredients in LOCKrx was specifically formulated to include stress reducing adaptogens which help the body resist stress, both physical and chemical. Managing inflammation and promoting a healthy immune function is found in LOCKrx through a natural tonic known as Ashwagandha (Withania somnifera). In addition to helping the body improve its reaction to stress, Ashwagandha helps to improve brain function and concentration. In Indian Herbal medicine, this ingredient is used for a variety of reasons from reducing stress to promoting a peaceful night's rest to balancing hormones in the endocrine system. 
For hair loss, Ashwagandha is used as a key ingredient in many shampoos. This powerful, natural element is believed to reduce dandruff and improve circulation in the scalp, and it has melanin stimulating anti-graying properties via tyrosine, an amino acid that helps to preserve the pigment in hair and delaying the aging process. It may help to heal psoriasis and eczema on the scalp.  Cortisol levels in the body can wreak havoc on our stress levels. The impact can be felt physically and seen within the root of hair follicles. 
Found in India, Ashwagandha, which translates in Native American culture to "smell of a horse," grows naturally in arid climates. Its colloquial translation stems from its unique smell and medicinal prosperities in rejuvenation of virility in the male productive system, helping one to become as "strong as a horse." A member of the tomato family, the Ashwagandha has oval leaves that produce yellow flowers and a small red fruit the size of a raisin. Herbalists use the dried root of the plant and grind it to powder form to tap into its medicinal benefits.
Smart Solutions RX, Inc. maker of LOCKrx, sources Ashwagandha from reputable sources. Each batch is tested and cleared for absence of heavy metals, pesticides, impurities. 
Ashwagandha is found in LOCKrx oral form through BLOCK. For best results, it is recommended to take two tablets daily for a minimum of 12 weeks as Step 2 of the LOCKrx Healthy Inside Three-step Plan. For added benefit, taking capsules with a meal rich in quality fats will aid in the increased absorption of Ashwagandha. Those taking BLOCK on a daily basis will experience stress relieving benefits within 24-48 hours but may require several weeks to achieve optimal hair health and leveling of cortisol levels within the body. 
BLOCK is generally considered a safe ingredient in healthy individuals. It is not recommended for those who are pregnant or lactating.  Please consult your doctor before consuming any supplements. More information about LOCKrx can be found by visiting www.LOCKrxhair.com. 
Further Reading: